libyan leader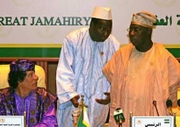 SIRTE, Libya (Reuters) - African leaders urged a summit of rich nations opening in Britain on Wednesday to cancel debt owed by African governments, reform international trade and increase aid to fight poverty on the continent.
Heads of state of the African Union (AU), ending a two-day meeting in Libya, also pledged to step up efforts to end war and political instability and improve standards of governance to attract investment to the world's poorest continent.
"We request the developed countries and development partners to expedite the process of total debt cancellation for Africa by the year 2007," said a resolution issued on the eve of the summit of the Group of Eight countries in Scotland.
"We call on the international community to establish a fair and equitable trading system and to facilitate Africa's access to fair markets through ... the elimination of tariff and non-tariff barriers ... and trade distorting subsidies and domestic support, especially in agriculture."
Sub-Saharan Africa's debt burden is estimated at about $230 billion, much of which was borrowed during the Cold War by military strongmen who misused it in many ways including to prop up dictatorial rule, anti-poverty campaigners say.
African countries pay out about $39 billion per year in debt servicing.

The leaders delicately skirted around a call by their host, Libyan leader
Muammar Gaddafi, that they reject foreign aid extended under what he called humiliating conditions.

Gaddafi, a wealthy force among poor African states, had told the leaders on Monday that the solution to Africa's woes was the creation of one pan-continental country with one African passport and the appointment of federal ministers.

The leaders politely agreed to consider his ideas.
ROBUST, GLOBAL ACTION
The African gathering fully supported the recommendations of a UK-sponsored report prepared for the G8 summit on Wednesday and Thursday, which gathers the leaders of the world's wealthiest countries including Russia.
"The Assembly (of AU leaders) commends UK Prime Minister
Tony Blair and his government for pushing robust global action in support of Africa's efforts toward growth, poverty reduction and prosperity," they said.
"The Assembly strongly urges the G8 Summit scheduled for 6-8 July 2005 in Gleneagles to fully embrace the comprehensive recommendations of the Commission for Africa and act expeditiously on them," they said.
But the AU call for total debt cancellation actually goes further than the recommendations in Blair's report.
His report calls for freer trade, a big rise in aid and debt cancellation for only the poorest African countries.

More than 40 percent of Africans live on less than $1 a day, 200 million Africans are threatened by serious food shortages and
AIDS kills more than 2 million Africans a year.

G8 host Britain said any move to increase aid to Africa was simply the right thing to do, and in any case trade was the key to unlocking Africa's development.
"It's not about charity, it's about justice," said Britain's International Development Secretary Hilary Benn, who was attending the African meeting.
"But in the end it's going to be economic development, opening up the world trading system, enabling Africa to earn and trade its way out of poverty that's really going to make the difference and for that to happen you also need peace and stability, good governance."
In the African gathering's other major piece of business, the leaders endorsed a plan to demand two permanent seats on a reformed
U.N. Security Council, although they dodged the question of how their representatives would be selected.