yahoo building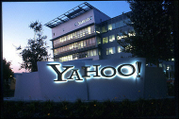 NEW YORK - Shares of Internet search rivals Google Inc. and Yahoo Inc. (Nasdaq:YHOO - news) rose Thursday, helping to lift the broader technology sector after an analyst report suggested that total online advertising could reach $12.4 billion this year.
The two companies are expected to benefit from strength in search advertising, which is generated when Web users type in certain keywords. A report from Merrill Lynch & Co. projects search advertising will generate about $5.6 billion this year — then more than double to $12.3 billion by 2009.
Investors moved into both Google and Yahoo shares, making technology stocks one of the overall market's main drivers. Google shares rose $5.69, or 2 percent, to $285.25 in afternoon trading on the Nasdaq, while shares of Yahoo jumped 81 cents, or 2.2 percent, to $37.44
Smith Barney expects Google's shares will reach $360 within the next 12 months. However, the firm does not suggest running out and buying up Google stock immediately.
"We're fully cognizant of an $85 billion market cap and a stock that is up 50 percent year to date," Mahaney said. "We'd be opportunistic around likely upcoming negative catalysts, like Microsoft's analyst day."
Mahaney expects competition will heat up for Google as Microsoft and Yahoo continue to add more features for their users.
Shares of Microsoft rose 11 cents to $25.51 in afternoon trading on the Nasdaq, while EBay shares added 14 cents to $37.24. Amazon shares edged up 28 cents to $35.11 on the Nasdaq.