singapore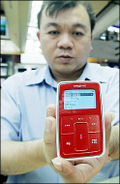 SINGAPORE (AFP) - After boldly stating he intended to rival Apple's Steve Jobs as the world's leading maker of portable music players, analysts say Creative Technology founder Sim Wong Hoo is now facing his toughest challenge.
The Singaporean, whose soundcards transformed the home computer into a mini-entertainment system in the 1980s, remains a long way off leader status in the booming MP3 market following nearly a year of poorer-than-hoped for sales.
Analysts say that although Creative is still selling millions of portable music players, profits are slumping as Sim's products remain unable to attain the "iconic cool" status of Apple's iPod.
Locked in a fierce price war with Apple and other electronic giants, Creative's net profits in the March quarter fell 72 percent to 15.9 million US dollars from 57 million dollars a year earlier
In contrast, Apple's profits for its quarter ended March 26 shot up six-fold to 290 million dollars, with the iPod the main driver behind the gains.
The challenges facing Creative are unlikely to ease given that other major Asian consumer electronic firms such as Samsung and Sony are also launching an assault on the booming MP3 player market, analysts say.
"It will be (Sim's) greatest challenge because he has effectively bet the company on the MP3 player," Dharmo Soejanto, an analyst with Kim Eng Securities in Singapore, told AFP.
"We think that it will be difficult for Creative to make a decent return on MP3 players in the next few quarters especially when other consumer electronic giants are starting to pile it.
"(Companies) like Sony and Samsung have bigger marketing budgets and distribution reach."
When Sim launched his 'Zen Touch' in a direct challenge to the iPod last year, he announced an ambitious target of selling one million personal digital entertainment (PDE) units, mainly MP3 players, a month.
"We are now playing in the big league. We are ready for the prime time. The PDE market is exploding and we cannot be left behind ... today, we are very confident to take on this market," Sim said at the launch of the Zen Touch.
But in the three months to March, Creative sold two million MP3 players compared with 5.3 million iPods. Industry figures show Apple holds a commanding 60 percent of the market.
"Creative's Zen is a good product ... the main problem is this is a market that has nothing to do with specifications," said Claudio Checchia, research manager of consumer devices at International Data Corporation in Singapore.
"It goes beyond things like battery life, gigabytes ... the thing is that the iPod is an iconic thing, (it has) the quintessential cool factor."
However, even if Creative cannot match the likes of Apple and Sony, analysts say a smaller-than-hoped piece of the global MP3 pie would still be substantial and Sim's big gamble could indeed pay off.
In 2004, 40.3 million million MP3 players were produced, up from 14.3 million in 2003, according to US-based technology research firm Gartner which expects that figure to grow to 74.4 million this year.
Founded by Sim in 1981, Creative gained worldwide fame for its SoundBlaster card that allows a personal computer to be used also as a mini home entertainment machine.
More than 70 percent of the world's PC audio systems use Creative's music card technology.
Sim has transformed his company over recent years to become a consumer electronics player in a bid to wean Creative's dependence on the increasingly saturated soundcard business.
PDE products now account for 68 percent of Creative's total revenues.
Analysts say Creative's long-term success hinges on its MP3 players achieving "hip and cool" status, primarily by offering a seamless process for users in a similar concept to the iPod.
"Apple is unique in this market because they not only make the hardware (the iPod) but they also design the PC software (iTunes) and the online music store (iTunes music store)," said Jon Erensen, Gartner's US-based analyst for consumer applications.
"Competitors have focused on matching and even exceeding Apple when it comes to hardware features but what they need to focus on is the out-of-the-box experience, specifically the integration between the hardware, PC software and online music store."